In my previous post I made it clear that I have never walked the 70 miles from Notre Dame in Paris to Notre Dame at Chartres although all my children have. This doesn't mean that I have never made the Pilgrimage – far from it! I have on many occasions walked along with my children and, it seems fitting, since the theme this year is 'Family, cradle of Christendom', that my pilgrimage is outlined on this blog for anyone who wants to walk along with me. So indulge me and join me if you wish.
The Chartres pilgrimage lasts 3 days, each day is under the patronage of a particular saint. It includes Mass each day and various prayers and reflections. Sometimes these are made available online. During the walk pilgrims will make a confession. There is exposition and the opportunity to keep Our Blessed Lord company often during the night. It will also include fellowship and varying degrees of hardship. All of these can be adapted so let us begin our spiritual journey to Chartres today:-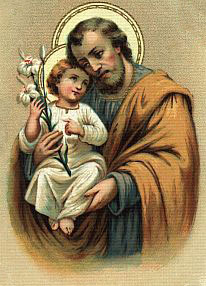 DAY ONE 'The Church, family model' under the patronage of Saint Joseph
Let us begin with a Prayer to St Joseph,
St Joseph, guardian of the family of Nazareth, look upon our families. Help them to find that kind of work which will assure 'nuclear families' of a dignified life; help children to enjoy the full undivided affection of their parents; help newly weds to be in a position to begin their married life with serenity and commitment.
St Joseph help families to become the agents of a renewed evangelisation, one sustained and accompanied by the witness of charity.
As happened in the family of Nazareth, in your family, make our families privileged places for Christ.
St Joseph, glory of home life and model of workers, help us.
Under your protection, may the family and labour, here and everywhere, bear fruit to everlasting life.
Joseph, most faithful, to you we turn. Do not cease to intercede for us; do not cease interceding for the whole human family
Now today pray at Mass for all the pilgrims and leave a light shining in church for their intentions. Also go to confession and set aside time for some devotional reading. In particular include some act of charity in your day. Opportunities are numerous when on an arduous pilgrimage. Here at home one might have to be more imaginative. It is not difficult for me as my father is 95 years old and welcomes my visits. Denial of some home comfort might also put one in mind of the Chartres pilgrims today.

Try to include some silence in your day. Get up during the night for a little while if your day is noisy. And the rosary of course - sing it just as they will be doing if you like.
Think about the pilgrims often during the day. Pray for the oldest, the youngest, the one who is struggling the most, the one with the biggest blister - you get the idea!
Ask God to bless them and help them.
Then go to bed and get up earlier than usual for day two!